"About Us"
Kiana Siberians is located in Sanbornton, New Hampshire, and is owned by Corina & Scott Alexander. We are dedicated to maintaining the multi-purpose Siberian Husky; show, sledding and obedience.
Scott and I (Corina) got our first Siberian Husky, Tika, in 1993. I always pictured myself showing dogs, although growing up I was interested in sporting dogs. Scott had always admired the Siberian Husky. So we compromised. We currently own a kennel of about 15 Siberians.
I began showing in obedience, and Scott started showing in the conformation ring. Now we both show in the conformation and obedience rings. We also enjoy running mid-distance races. Not all of our dogs are show dogs, but all of them must perform in their original function. Other hobbies that we enjoy with our dogs include agility, tracking, skijoring and backpacking.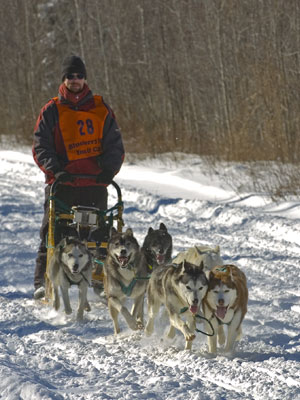 Scott racing at the Stratford Nighthawks Race in 2007.
Scott's team finished 2nd out of 23 teams.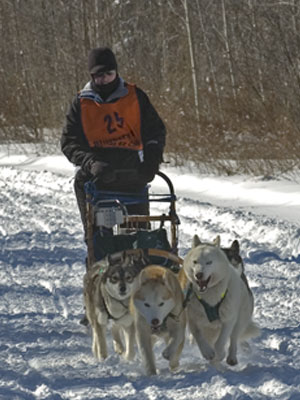 Corina racing at the Stratford Nighthawks Race in 2007.
Corina's team finished 7th out of 23 teams.
We breed on a limited basis, only when we are looking for a puppy to add to our kennel. We OFA the hips and SHOR the eyes on our breeding dogs.
Scott and I are members of The Siberian Husky Club Of America. We take the Code Of Ethics very seriously. We had been members of The Yankee Siberian Husky Club for several years. I was the president of Patriot Siberian Husky Rescue for three years, and I am now the secretary. We are also active members of the Lakes Region Kennel Club.
We only sell our pet puppies to people in local states. We do not ship our puppies. We can try to help by referring you to another reputable breeder in your area.
Thank you for visiting our website. We have over 200 pages for you to view.
Feel free to e-mail me if you have any questions.