Planned litter!
Kiana's Power When You Need It SD X Alkas'iber's Etoile At Kiana CGC, TKN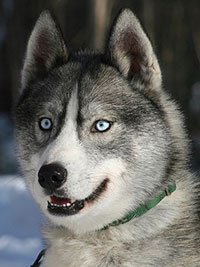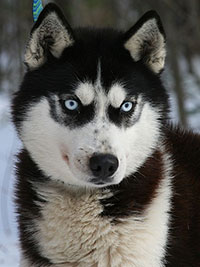 I was not planning on doing a winter litter, but I did not have much choice. Etoile keeps coming into season every 3 months. I took her to the reproductive vet and she passed the exam with flying colors. The vet said spay her or breed her, so here we are. Etoile LOVES people and being shown. I had to drop her off at the vet to get her hips done and they wanted to keep her because she is so sweet. Etoile is very mellow and has no desire to run in harness. Oliver is also crazy friendly and he lives to run in harness. I'm hoping the combo will produce amazing pups. There is a 50% chance Etoile carries the red gene (Oliver does indeed carry the red gene). Fingers crossed they will have red puppies. Expecting gray & white and black & white puppies with a variety of eye colors. Puppies are due the middle of November. I CANNOT TAKE ANY NAMES FOR THE WAITING LIST ON THIS LITTER!
~~~~~~~~~~~~~~~~~~~~~~~~~~~~~~~~~~~~~~~~~~~~~~~~~~~~~~

If you would like to be put on the waiting list FOR A FUTURE LITTER please send me an e-mail.